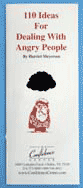 To buy now...

- Tips eBooklet you can download immediately for $5.77
For detailed information read this page
How to Squelch the Flames of Anger


What a great idea!
Finally someone has written a concise, 16 page Tips Booklet on dealing with angry people, and dealing with difficult people! It is anger management in a nutshell.
Are you at a loss of what to do when confronted with an angry or difficult person?
Have you left a good job because your life was made miserable by a cranky boss?
Do you avoid your most valuable customer because he or she has angry outbursts?
Are you afraid to visit your Aunt Helen because she tries to make you feel guilty with her critical remarks?
Do angry people or difficult people provoke you to snap back with sarcasm, or your own angry remarks?
Do you want to wake up every morning afraid of facing the angry people in your world?

Of course not!

You're not alone. Most people don't want to deal with fearful or unpleasant situations. And... very few people know how to deal with angry people.

However, don't despair! Help is on the way! This low cost, easy to read, 16 page Tips Booklet is full of strategies to help you deal successfully with angry people.

Free yourself from the fear of angry bosses, employees, customers, family members, or friends.
Here's what you will learn in the Tips Booklet:

Magic words you can sat that will immediately diffuse a person's anger.

Proven methods to avoid the anger spiral. (The angry person will no longer push your buttons.)

How to evaluate an angry situation.

How to learn from past mistakes with angry people and avoid repeating them.

How to understand what the angry person is really trying to say.

How to respond to an angry remark in a non-confrontational tone of voice.

How to demonstrate respect, understanding, and empathy while under fire.
"I work for a non-profit organization and we serve individuals with developmental disabilities. Our staff frequently have to deal with family members, workshop staff, physicians, nurses etc. etc. who can send them into a tail spin fairly quickly.
The Tips booklet has given them ideas so they can maintain some objectivity and emotional control when they have to deal with these situations.
It also has given everyone better insight into our own psyche and what part we play in any given situation. I have to say it has been very useful and productive while helping us maintain a professional balance.
Thank you so much. It is a great little booklet."
Betty Szafranski
With this booklet you will be equipped with a powerful fire extinguisher!
You can squelch out the angry flames before the flames strike you!
Here's what you will also learn:

17 Ways to relieve the stress of dealing with an angry, difficult, or irrational person.


16 Creative approaches to deal with anger.


What to do if the angry person won't talk.

"Your tips booklet has very good advice. It helped me through a very tense time in my personal life."
Thanks, A Grateful Customer
Identify the symptoms of hidden anger.

Become aware of the hidden anger in others so you can deal with it before it erupts.
And - Discover how to handle your own hidden anger.

Hidden anger is both physically and emotionally harmful to your body. In the 110 Ideas for Dealing With Angry People Tips Booklet you will discover 28 ways your own hidden anger may be harming you, and 28 questions to ask yourself about how you are handling your own anger.

What does the ability to deal with angry and difficult people do for you and for your organization?

It means that you will have a clear understanding of how anger can really work for you.

You willl gain more confidence in dealing with difficult customers, co-workers, and family members.

You will have the confidence to express yourself assertively in non-confrontational ways.

You will have the confidence and skills to defuse situations before they become much larger problems for you and your organization.

More confidence in dealing with difficult people means:

More loyalty and willingness to work with difficult people.

Working better in teams because of anger management skills.

A more friendly work and home environment.

Extra Bonus - 9 Email Lessons

A new lesson every 2 days - a total of 9 lessons.

Step by step instructions to help you use your tips booklet more effectively.

Email help if you have any questions as you use the tips booklet.

How much does the Tips eBooklet cost?

This valuable eBooklet that you can print out and keep handy in your desk, purse, brief case or the glove compartment of your car, costs only $5.77. (That's less than you probably spend for coffee and a muffin at Starbucks.)

- Tips eBooklet you can download immediately for $5.77

or continue reading >>

Question: Would you also like to listen to the tips on your computer? ...or while you drive, exercise, or work around the house?

Then... Here's great news!

We now offer an mp3 audio that you can download to your computer, or to your iPod and listen to it any time.

Listen to the recording of the 110 Ideas for Dealing with Angry People eBook on mp3 audio on your computer or iPod.

Listen to while you drive, exercise, or do things around the house.

This impresses the information on your brain using two of your senses - the eBook through your eyes, and the audio through your ears.

Reinforce your habits by listening to it frequently.

Bonus offer: When you buy the Tips eBook,"110 Ideas for Dealing With Angry People" you may also purchase the downloadable mp3 audio for only $2.77 (Regularly $9.97).

Whether you purchase the eBook alone or the eBook and the audio you will immediately enjoy the peace of mind and improved relationships you are guaranteed to have when you follow the tips in "110 Ideas for Dealing With Angry People"

The Worst Scenerio...What will happen if you don't buy "110 Ideas for Dealing with Angry People"?

Absolutely Nothing! - Nothing will change in your life!

You will still avoid angry or critical people! You may lose a big sale from a grumpy customer. You may miss out on special family celebrations because you don't want to be around one difficult person. OR… you may still snap back at angry people adding fuel to the anger spiral
100% Risk Free - Lifetime Guarantee

You owe it to yourself - and your company - to have this valuable resource. Buy "110 Ideas for Dealing With Angry People Tips". Try the strategies. Then, if you don't get the results you want, simply ask for a full refund. No Questions Asked! This is truly a Risk Free purchase.
Because it is an eBook, you can download it immediately and print it on your computer.

Remember - You don't have to wake up every morning afraid to face the angry world!

The "110 Ideas for Dealing With Angry People Tips" will give you the help you need! Don't wait another day! Place your order now!

-Tips eBooklet you can download immediately for $5.77